SpinHex is now on the Google Play app store!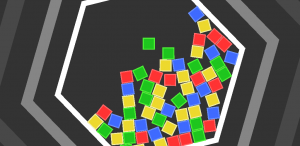 Well, I've now completed the October Challenge. I've finished a game, I've put it up for sale on the android app store, and I've now made £0.96 ($1.48) net revenue, thus officially making me a Professional Game Developer.
SpinHex has been expanded on quite a lot since the original three-hour prototype. It's now got multiple game modes, music and sound effects, and it's now an Android game – and I think it works quite a lot better with a touchscreen than it did with just frantic clicking.
The game itself can be bought for £0.69, or equivalents in your preferred currency, from https://play.google.com/store/apps/details?id=com.alteredtree.spinhex . Give it a look, let me know what you think.